This week is the 150th Anniversary of the beginning of the Civil War. I know because I read that wonderful special section insert in the Washington Post on Sunday. My lord they did a great job. But I got the impression they couldn't sell enough ads to give them more space to wrap the story in graphics. So it was a bit tedious to read.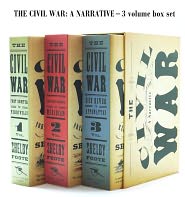 To get on with my story...Jodi Powell, you'll remember him as President Carter's press secretary (he was also a good guy). Well he told me a story about the President and Shelby Foote , the author who wrote the definitive history of the Civil War. Trust me you can't read it in one night....it's about as long as the war itself.

Powell, who was a student of the war, said right after Carter was elected he wanted to bring him to Gettysburg. So he arranged for Foote to go along on Air Force One with them. The idea being Foote would tell the President everything there was to know about the battle....just as he did in his books. So, according to Powell, they get on the plane and are headed to Gettysburg and Powell expects Foote to begin explaining the circumstances of what
they'll see when they land. Well, as Powell told it, Foote just sat there, across from the President and says nothing....nothing.
So Powell tries to prime the pump by asking Foote questions. He gets short, vague answers. It got to the extent that Powell pulled Foote aside and says something like....don't be intimidated by being with the President....he's a good guy and he really wants to hear what you have to say. To which Foote, the definitive historian of the Civil War says....well I wish I could....but I can't remember any of that stuff.

Not all game plans are successful......wouldn't you want to cry??? Damn!!! 
In case you are ever in the same situation - just pull up this nifty Civil War Timeline.